When it comes to dental care, many people worry about the cost of treatments such as dental fillings, crowns, and root canals. However, did you know that there are dental payment plans available to help finance your dental care?
Let's explore the pros and cons of dental payment plans and how they can assist in managing the cost of dental care. We will also provide tips on selecting the right dental payment plan for you and your family.
By the end of this blog post, you will have a better understanding of the benefits of dental payment plans and the associated risks.
What is a Dental Payment Plan?
Are you looking for a way to make dental care more affordable? A dental payment plan may be the answer. A dental payment plan is a dental financing option offered by a dentist or a third-party provider that allows patients to pay for their dental services over an extended period of time. This can help spread out the cost of treatment and promote access to needed care, especially for those without insurance or with high out-of-pocket costs.
A dental payment plan can be beneficial in many ways. It helps families who need immediate treatment but don't have the cash on hand by allowing them to schedule future payments if needed. It also helps patients with large balances by providing easy monthly installment options, rather than having to pay it all at once.
However, there are some drawbacks to consider when using a dental payment plan. For one, they may be more expensive than paying in cash or using credit cards directly since interest may apply in certain situations.
Additionally, plans may require an upfront processing fee or annual fees and credit checks/background checks prior to approval, which could limit your choice of dentists available to you as well as add extra costs if payments are not made on time or in full.
Overall, understanding what is involved with each type of payment plan and considering all your options is important when deciding what works best for your situation and budgeting needs when it comes to paying for necessary treatments such as:
child dental cleaning

nitrous oxide administration

general anesthesia administration

oral conscious sedation

dental fillings

dental crowns & root canals
Understand the Benefits and Risks of a Dental Payment Plan
Dental care is an essential aspect of your overall health and well-being, but it can be costly. This presents a challenge for individuals in need of dental care but who lack immediate financial resources. Hence, dental payment plans have gained popularity. A dental payment plan involves an agreement between you and your dentist, allowing you to divide the treatment cost over an extended period, often several months or even years.
Before determining if a dental payment plan is suitable for you, it is crucial to understand the advantages and disadvantages of this dental financing option. Here are some key considerations:
Advantages
One of the main pros of a dental payment plan is that it allows for more flexible payment options. This means you can spread out your payments over time and not have to pay in one lump sum.
It also helps with budgeting and keeps track of expenses by automatically deducting from your bank account each month.
Additionally, having access to these plans encourages preventative and necessary dental care within budget constraints, without having to worry about large upfront costs associated with certain procedures such as braces or implants.
Disadvantages
However, there are also some cons that must be taken into consideration when deciding if this type of dental financing is right for you or your family members.
For starters, most plans require a credit check, which may require good credit scores in order to qualify for reduced interest rates or other incentives offered through the program providers.
Additionally, there may be fees or penalties associated with late payments, so it's important to make sure you keep up with all deadlines related to your contracts.
Furthermore, coverage through these programs may be limited depending on the provider (i.e., only certain providers/locations covered), as well as what types of treatments they offer (i.e., sedation dentistry vs general anesthesia vs special needs dentistry, etc.).
Lastly, patients will have to wait until their plan is paid off before receiving additional treatments such as child dental cleaning (including nitrous oxide), early oral care (dental fillings & crowns), root canal therapy, etc.
Interest may be applied to these payment plans, potentially increasing overall costs based on the amount borrowed and the duration of the repayment period. This could entail payments extended over several months or even years.
Moreover, there might be additional fees associated with setting up the payment plan itself, such as processing fees. It is essential to inquire about all possible charges before signing any agreement with a third-party dental financing provider.
In addition, late payments could result in additional fees, interest penalties, and negatively impact your credit score if reported by the dental financing company. Therefore, it is crucial to make timely repayments whenever possible.
Ultimately, comprehending the benefits and risks associated with dental payment plans will help individuals make an informed decision about utilizing them for necessary treatments from their dentist.
When considering whether or not you should take advantage of a dental payment plan, it's important to weigh both the pros and cons carefully before making any decisions related to financing any kind of medical treatment, including those related specifically to dentistry services/procedures.
What Benefits Do Dental Plans Offer?
One of the main advantages of using a dental payment plan is that it allows you to receive treatment sooner rather than later. This means getting access to necessary treatments such as root canals or fillings as soon as possible, rather than waiting until you have saved up enough money to pay for them out of pocket.
Additionally, some payment plans enable you to get discounts on treatments if paid in full by a certain date or if payments are made on time each month. This could lead to saving money due to preventative care and long-term care plans that could save more money in the long run.
In addition, these payment plans may also help with budgeting since they allow individuals to spread out payments over an extended period, rather than having one lump sum due upfront. This makes them more accessible and affordable for those with limited financial resources.
Fortunately, you do not need to have good credit in order to take advantage of these plans because they are not based on your credit score.
Lastly, they offer peace of mind by allowing patients who need treatment fast but do not have enough funds available right away to receive needed dental care without worrying about immediate costs associated with it.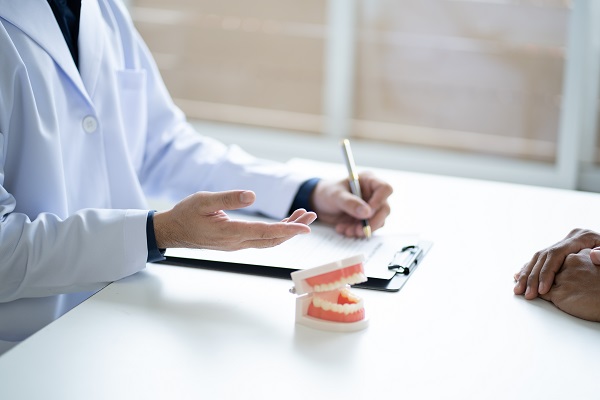 Be Aware of the Risks of Dental Payment Plans
Although there are many benefits, there are also some potential risks and drawbacks associated with taking out a dental payment plan. For instance, interest charges may apply if payments are not made in full by their due date or administrative fees could be charged just to set up a plan. This may be difficult for some people initially when considering their budgeting needs overall.
Unexpected fees may be charged when utilizing a payment plan. Also, care may be upsold when using this type of dental financing option since it makes larger treatments more affordable in the short term. Also, certain services may not be covered by a particular plan. This means you could end up paying out-of-pocket for additional treatments that were not originally included in your initial agreement with the provider.
Additionally, some plans require monthly payments, which could be difficult to manage if funds are tight. There may also be high interest rates associated with certain plans, making them even more expensive over time than initially anticipated. Finally, it is important to remember that not all needed treatments will necessarily be covered by your chosen plan, meaning there could still be additional charges after all is said and done.
Moreover, credit checks or other forms of financial assessment may also be required before approval, depending on the provider's criteria, which could limit access even further in terms of affordability.
Payment plans can lead to excessive spending on non-essential treatments, which should not be taken lightly either.
Canceling a payment plan could prove difficult if other terms have not been met first, such as paying off any outstanding balances or late fees due before the cancellation goes into effect.
When considering whether or not a dental payment plan is right for you, it is important to weigh both the pros and cons carefully before making any final decisions regarding treatment costs going forward!
Things To Consider Before Choosing a Dental Payment Plan
When it comes to dental care, having a payment plan in place can be a lifesaver. But before you make the decision to start a dental payment plan, consider these important factors:
Dental plans allow you to spread costs out over an extended period of time, allowing you to break down payments into smaller chunks, making them much easier on your budget than one large lump sum upfront.

It also serves as an easy budgeting tool by allowing you to commit to regular payments and make sure that your finances are in order before committing.

Having access to financing options like dental payment plans can help reduce the financial burden when paying for needed treatment, without breaking your bank account all at once.
Although there are many benefits associated with using a dental payment plan, there are also some drawbacks that should be taken into consideration before moving forward with one:
For example, many plans require larger interest payments than if you were to pay for all services upfront in one go; this means more money out-of-pocket long term.

Additionally, once a plan is in place, it can be difficult or impossible to cancel or modify, so it's crucial to think carefully before committing and ensure that you have the financial means necessary for regular payments throughout the duration of the plan.

Credit checks may also apply depending on what type of financing option is chosen, so keep this in mind, too.

Finally, always remember to check refund policies and terms carefully when selecting any type of financing option, as these may not always be flexible after signing up for them.
To Sum Things Up
Dental payment plans are a superb method for spreading the cost of dental care over a prolonged timeframe. They provide flexibility and peace of mind, enabling patients to receive prompt treatment without immediate financial concerns. Nevertheless, risks like interest charges and administrative fees may arise if payments are not completed in full or on schedule. It is crucial to thoroughly assess all aspects before entering into an agreement with a third-party financing provider.
If you need a dental payment plan, we offer in-house dental financing. Call our office to discuss the options at (205) 969-7454.